From Catalog
http://www.uni-patch.com/PDF/2006_booklet.pdf
Refer to electrode pad version ;
610SS 2.75 in. x 5 in. oval EP85425
2/pkg 10 pkg/case
And
627SS 2 in. round EP85275
4/pkg 10 pkg/case
IF  your skin feels extra sensitive, go with ;
697SS 1.75 in. x 3.75 in. rectangle EP85215
Back Therapy Belt System
UP250S Fits up to 38 in. waist MM77260
1 belt & accessories/pkg
Gentle Blue®
lumbosacral electrodes with double layer
skin friendly PolyHesive® blue gel
639 6 in. x 4 in. butterfly EP84604
1/pkg 10 pkg/case
================
http://www.beautyboutique.com/cgi-bin/beauty/postkey_find.html?cm_mmc=channel-_-engine-_-media-_-029157&keywords=029157&media=GB2172&ci_src=14110944&ci_sku=029157
<![if !vml]>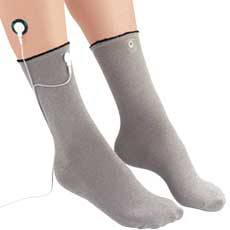 <![endif]>
A Relaxing Electrical Foot Massage

Electromassage Systems (EMS) have been used by physical therapists for decades to help increase circulation and range of motion, relax muscle spasms and help prevent muscle atrophy. SonicTechnology Conductive Socks work with your EMS to provide a soothing massage for your feet. Woven for even current distribution and maximum comfort, the stretchy socks provide the ideal amount of compression and support. Fits most EMS and TENS units. The conductive sock kit includes 1 pair of socks, a snap lead and 2 self-adhesive snap electrodes. Woven nylon, cotton and conductive fibers. One size fits most. USA.
For use with our ElectroMassage SystemTM).
RUGGED CONSTRUCTION
http://www.3dhealthstore.com/electrode-garment.html
<![if !vml]><![endif]>

BIO Sock

| | |
| --- | --- |
| - | Connect the BIO Sock with your TENS machine. |
| - | Wear the socks on your feet |
| - | Use your tens machine to adjust the electric current intensity. |
| - | Works for foot reflexology areas. |
Conductive Aloe Vera Gel
UP240 3 oz. tube MS71155 24 tubes/case